Many people have the dream of owning a coffee shop, someday, but what sets the failed attempts apart from the success stories? One of the major factors is location. It doesn't matter if you have a coffee shop that is truly superior to the other ten in your city if you are located in an area that people don't frequent. Also, while many people may visit your store when it has just opened due to curiosity, they are unlike to continue visiting if you are very far out of their way.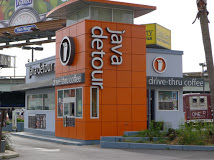 Studies have shown that more than 75 percent of the time, people will frequent the coffee franchise or coffee business that is closest to them. This means that even if you are located in a shopping plaza that is directly across the street from another coffee shop, the people who live in a location that makes it slightly easier to drive to your store rather than crossing to the other will visit your store instead of the other one. This is the reason you will often see two Starbucks stores right across the street from each other. Both can survive since each is more convenient for a large set of people.
What does this mean when you are searching for the perfect location? It means you need to consider the traffic that you will see more than the locations of your competitors. Java Detour is focused on your success, meaning we want you to be located in visible, high traffic areas where you can succeed.
Location doesn't stop with your physical store though. Once you've selected a location, make sure everything inside your store is located in a logical place. Your baristas can't do their jobs efficiently if they have to walk ten feet between the espresso and the flavoring syrups every time they need to make a hazelnut or vanilla latte. Too much movement can slow down your baristas and cashiers.  So try to keep everything as logical as possible, and keep your location, inside and out moving smoothly.