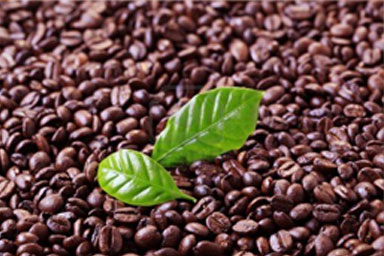 Premium Roasted Coffees by the Pound. Java Detour selects and hand roasts the world's finest coffee beans to specific high standards. These standards create our unique premium coffee blends for the most discriminating java lovers. To ensure freshness, java detour only roasts to order and guarantees consistency and quality with every cup. Orders are shipped every Wednesday to ensure you receive the freshest whole bean coffees. Our fully-lined coffee bags guarantee roasted-fresh flavor with every cup you brew. Each order has a two pound minimum, which may be split between flavors. Volume discounts are available for purchases over 2 pounds per blend.
Prices include shipping cost.
At this time we can ONLY accept orders shipping to the U.S.
We apologize for any inconvenience.
Buy by the Pound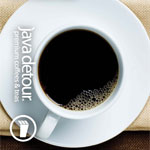 Decaffeinated
Our decaf is created using an excellent blend from all corners of the coffee growing world. Decaf drinkers will love the rich, rounded taste with all the flavor and aroma you expect from a top caffeinated coffee.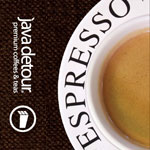 Espresso

Our Espresso is a northern Italian style, which is a slightly lighter roast than some and maintains the full, natural character of bean. It is lively with well -rounded body and a smooth taste- and of course a rich, wonderfully sweet crema.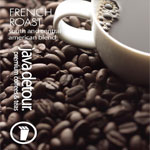 French Roast
This dark roast creates a deep, syrupy body with a smooth taste. This degree of roast brings the full natural oils to the surface of the bean creating a balance of the expected dark tones with a smoky sweet finish. Unique…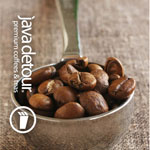 Premium House Roast
An Ethiopian coffee considered to be the most flavorful in the world. It grows at high elevations often in small family gardens alongside the vegetables. Exotic and complex with a light/medium body, gentle acidity and hints of citrus, vanilla, black pepper and blueberry, it lives up to Ethiopian coffee's well-deserved reputation for excellence.
Monthly Supply of Premium Gourmet Coffee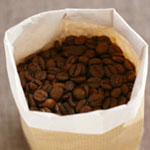 Life has its moments and sometimes you need something to get you ready for the path ahead. Take a planned detour with a continuous supply of Java Detour premium gourmet coffee. This subscription allows you to choose the flavor and quantity of beans and then have them automatically delivered to your door step each month.
• Convenience: place a standing order• Account is automatically debited once a month
• Flexible: can modify order any time       • Delivered by the 13th of each month
• Whole bean to ensure freshness             • Discounts for buying larger bags


Cancelling Your Membership

If at any time you decide to cancel your Automatic Renewal membership, just visit this page and click the 'cancel membership' button.
Gift Card Balance
To check your Java Detour Gift Card balance, please call or visit any Java Detour location.
To find your local store click here