Why Java Detour is a Great Place to Work
Our employees and coffee shop franchise owners love working with us for many different reasons, including our commitment to superior coffee products, our finely tuned training programs and our assistance with everything from obtaining a lease to making sure our employees have everything they need to do their job efficiently. What all of these reasons have in common, though, is our dedication to support, personal growth, and employee satisfaction.
Here are a few of the biggest benefits you will enjoy as an employee of Java Detour:
We offer management training for all of our coffee franchise owners and managers to ensure that you know what you are doing and are comfortable enough with our policies and products that you can train your baristas and serve your customers.
Starting up a coffee business, franchise or independent, can be difficult. There are a lot of working parts you need to consolidate, including permits, leases, site selection, purchasing machines, and more. To ensure that your move onto our team goes smoothly, we help you obtain all of the proper permits you need, from health to zoning, select a site and negotiate a lease. If you need to build or alter a building, we also help you with construction.
We provide marketing and sales training, including introduction to our new marketing programs and any new products we have, and help train customer service employees, cash register operators, baristas, and more, so that by the time you open your doors for business, everyone on your team is prepped and ready to go.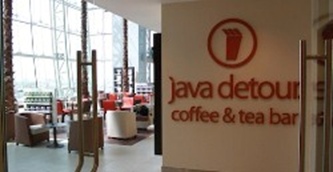 Photo Source: http://javadetour.com/franchising/how-we-help/