If you have dreamed of owning a coffee business for years, whether you picture a cozy space with mahogany bookshelves, a large, open Chinese teahouse, or an Internet café espresso bar, a coffee shop franchise may be the best option for you. Here are a few benefits to choosing a franchise, instead of striking out on your own and opening an independent business: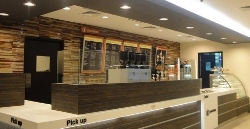 If you have the financial backing to cover royalties, fees and additional start-up expenses like rent and supplies, than a coffee house franchise is a good option. The money you spend in franchise fees will most likely be lower, in the long run, than what you would spend attempting to establish your own brand name, and you already have a base of loyal customers the minute you open your doors.
When you open a franchise, you sign a long-term agreement with the owner. This gives you job security for more years than you might be able to manage if you were to open your own shop.
As briefly mentioned, franchised shops give you the benefit of an already established brand and an already loyal customer base. You will be turning a decent profit, from the first time you open your doors, instead of a year or two later.
If you don't mind being limited in your options, then a franchise is also perfect for you. Some people want to be able to change the menu or look of their store at a minute's notice, but a franchise, by nature, must have some amount of continuity between stores. This means you need to keep the menu and aesthetic laid out by the franchise owner.